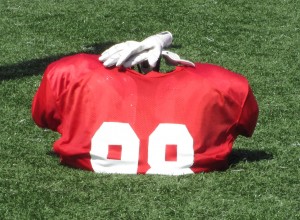 USA practiced for nearly two hours on Monday in shells. Head coach Joey Jones noted that the defense played well and played with emotion. Conversely, the offense did not have a particularly good day.
"The offense didn't execute very well," Jones explained. "We didn't have the attitude we needed to have, but that's one of the few bad days we have had offensively. There's always tomorrow, and we will see how they respond."
Offensive player of the day was senior offensive lineman Drew Dearman. "Drew brings a lot of experience and consistency to the offensive line," offensive coordinator Robert Matthews said. "He is a tough guy, and we know that we can count on him."
Defensive player of the day went to junior defensive end/outside linebacker Jimmie Gipson III. Defensive coordinator Travis Pearson said that Gipson brings speed and power to the defense.
Play of the day went to defensive back Margo Reed who intercepted Matt Floyd with an over-the-shoulder catch in the corner of the end zone during 7-on-7 drills.
Another highlighted play was when Floyd connected with freshman tight end Jarrius Hackworth for a 30+ yard gain during team drills.
Phase one of season prep finished with the scrimmage on Saturday. Now the Jaguars coaching staff are going into phase two, which involves solidifying the starters and the back-up roles. Once those are determined, the majority of reps during practice will go to the first and second team players with occasional work going to those beyond the two's.
While most of the starting positions have been determined after the second scrimmage, head coach Joey Jones said that there are still many back-up roles that are still up for grabs. Though coach Jones hopes to have everything determined by the end of the week. But equally important is to give the players who are working hard to earn a back-up role as much of an opportunity as possible to win those jobs.
Since the Jaguars do not play the first week of the season, their preseason camp began a week later than all of the other teams. But they have the same amount of time to make those depth chart decisions as the other teams.
Call it an advantage or not, most of college football will begin play this week with one of the earliest is Abilene Christian playing at Sun Belt Conference foe Georgia State in the Georgia Done on Wednesday. But this will give the Jaguars the chance to get a look at some of their upcoming opponents, including their first test, Kent State, who will be hosting Ohio University.
The coaches will have to go beyond the one's and two's since they start the season on the road. They will have to determine a 70-man travelling roster, which is about 20+/- players beyond the one's and two's including special teams.
Meanwhile, the players have already looked at film on the Golden Flashes and they will begin preparation for them on the field beginning Tuesday. By Sunday, the team will be in their normal game-week preparation schedule.
Coach Jones and his staff are pleased with the overall progress of the team so far and they feel good about the starting lineup. Their concern, which is a concern every season, is finding quality depth behind the starters. They need players who can step in and give the starters relief and maintain a high level of production and play-making ability. Experienced players go a long way towards that goal.
USA has 30 student-athletes in their senior class this season, which is the most so far in the Jags short time playing football. They have been around a few seasons and have achieved a comfort level with the program that they can help teach the younger players about how to handle practice and games.
The Jags will practice again on Tuesday with their first game of the season kicking off on Saturday, September 6 at 1pm in Kent, Ohio against Kent State.
The Jaguars held their second scrimmage of preseason camp on Saturday at Fairhope Municipal Stadium as they continue to prepare for the season opener on September 6 at Kent State.
After the scrimmage the previous Saturday, head coach Joey Jones said there were a lot of areas that needed improvement and he saw some of those improvements in the second scrimmage. Some of the focus of the second scrimmage after execution was substitutions and organization. And by what he saw on Saturday, he thought the team was getting close to being game ready in those categories.
"I think the thing we challenged them with yesterday (Friday) coming out here today was to be mentally ready and I think they were," Jones said. "I told them when they were warming up I could tell that their minds were on the task at hand and they treated it like a game. You've got to be ready to play."
They also devoted a lot of time to situational work such as two-minute drills, goal-line situations and special teams play. Several times situational work was interrupted to send out the field goal unit or the punt team in order to practice those moves in a near game-like simulation.
On offense, the team really focused on substitutions, especially rotating offensive lineman. Defensively the team played much more solid after allowing some big plays in the first scrimmage.
Quarterback Brandon Bridge went 15-of-21 for 177 yards and two touchdowns. Braedon Bowman caught one of Bridge's touchdowns, a two yarder. The other touchdown went to Shavarez Smith for 20-yards. Hunter Vaughn went 2-of-5 for 47 yards and Matt Floyd went 1-of-7 for 8 yards.
Jay Jones was the top running back with three carries for 73 yards and two touchdowns, one of 48-yards and the other was 17-yards during red zone drills. Terrance Timmons carried the ball six times for 36 yards. Kendall Houston got four touches for 15 yards while Montavious Stewart carried seven times for 12 yards.
Smith narrowly led the wide receivers with two catches for 36 yards and a touchdown. Cameron Broadnax had two catches for 36 yards. Jereme Jones caught three passes for 32 yards. Marvin Shinn caught two for 31 yards and Claude Garrett also caught two passes for 25 yards.
Defensively Antonio Carter led the way with five stops. Tre Alford, Akeen Lewis, Jerome McClain, Jeremy Reaves and Ridge James all recorded a sack. Terrell Brigham picked off a pass. Alford T'Quan Robinson, Demarius Rancifer and Roman Buchanan all added three stops.
In special teams work, Aleem Sunanon went 5-of-6 in field goal tries with a long of 47. Grant McLaurin went a perfect 3-for-3 with a long of 50 yards. Freshman Corlis Waitman wow'ed those in attendance when he ended practice by making his one and only field goal attempt of practice from 55-yards out with room to spare.
Waitman had one punt for 37 yards and Brandon McKee punted once for 46 yards.
Now Jones and his staff will review film and decide on a depth chart and travel roster for the Jaguars first game. This decision will determine what players get the majority of repetitions in practice over the next two weeks leading up to game on September 6.
Jones said that they will begin working on Kent State on Tuesday. He also said that with a travel squad of 70 players, it's up to the players to figure out a way to get on the travel team by either being a starter, a backup or a special teams player. Ultimately it's real life but it does not make the decision any less difficult. The reality is that they will have to leave some good players at home because of the travel limitation. "You have to fight for what you get," Jones said.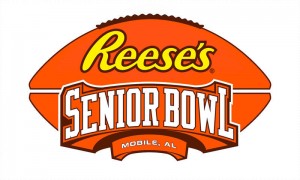 The Reese's Senior Bowl announced on Wednesday that quarterback Brandon Bridge and tight end Wes Saxton are among more than 350 student-athletes that are on the 2015 watch list.
The Senior Bowl, who's home is in Mobile, Alabama and play at Ladd-Peebles Stadium, will invite a total of 110 individuals to compete in a week of drills and workouts in front of NFL coaches and analysts leading up to the game that is scheduled to be held on Saturday, January 24 at 3PM and will be broadcast on the NFL Network.
In South Alabama's five seasons of football, three players have been invited to participate in the game. Courtney Smith was the first to represent the Jaguars in 2011. Both linebacker Jake Johnson and safety B.J. Scott were selected fro the 2013 game, though Johnson was unable to participate due to injury during drills.
Go Jags!
The Jaguars Thursday morning practice last almost two hours in shells just two days ahead of their second scrimmage of preseason camp. They were also joined by university president Tony Waldrop and vice president of student affairs and special assistant to the president Dr. John Smith where each spoke to the team after practice.
Head coach Joey Jones noted that it was another hot day but his team continued to work through it. "They are working hard and doing the things necessary to win, so I am proud of what they're doing," Jones said. "They are continuing to work hard through the heat. But we can't let that bother us, it can't be a factor. We just have to keep working."
As the Jaguars second week of camp is quickly coming to a close and about to start the third week, coach Jones understands that their time is limited before the season starts and that the team is about to start the toughest part of camp.  "The toughest time is always at that third week of camp," Jones explained. "Next week is going to be very critical. We're going to work Monday through Thursday, and we have to have great practices that week because after that we are in game week. We have to understand that every minute and every rep matters. We've seen so many guys get better on this football team, and the more that improve then the better we are going to be. But everyone has to understand what they have to do."
Quarterback Brandon Bridge was selected as the offensive player of the day. Offensive coordinator Robert Matthews praised Bridge for his work during Thursday's practice and all of preseason camp. "Brandon had a good day today," Matthews said. "He made some good throws. We had some different situational-periods with two-minute (drill) and third downs, and he made some really good decisions. He just continues to come out here and grind every day and try to make himself a better player, so I am happy to see that. There are times he shows things that are really, really good, and there are some times where he is still learning. But he just needs to take it one day at a time and continue to press. He will be fine."
Defensive lineman Jerome McClain was selected the defensive player of the day. Defensive coordinator Travis Pearson tauted his consistency through camp so far. "Jerome has been really consistent and played really well through camp," said Pearson. "I'm impressed with his conditioning. His play has increased. Everyone expects him to be the best. I expect him to work like he's the best, and he's doing that."
Play of the day went to Marvin Shinn who caught a 20-yard touchdown pass from Bridge in the back corner of the end zone during the final team period on the final play of a two-minute drill.
Another big play was when transfer quarterback Hunter Vaughn ran for a 50-plus yard gain before it was whistled dead. At the time the first team was focusing on third-down conversions.
The team will practice once more on Friday prior to their 9AM scrimmage at Fairhope Municipal Stadium.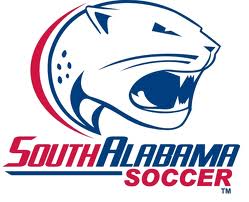 South Alabama women's soccer team, the defending Sun Belt Conference Tournament champions, was voted to win the regular season championship and had two players named to the Preseason All-Sun Belt Team.
The Jags took first place with 98 points and 9 out of the possible 10 first-place votes. Louisiana-Lafayette was voted second with 81 points and one first-place vote.
Junior defender Nini Rabsatt-Smith and sophomore midfielder Monique Autmon were both selected to the All-Conference team.
Rabsatt-Smith was named to the 2013 Sun Belt Conference All-Tournament team where he helped the Jaguar defense allow just one goal in 290 minutes. She had 21 starts last season and recorded two goals, four assists and eight points.
Autmon also made 21 starts and appeared in all 23 matches as a freshman. She finished in a tie for fifth on the team with three goals, two of them came against SBC opponents.
The Jaguars won their first SBC Tournament title in school history last season after they ranked second in the league in both shutouts (9) and goals against average (1.01).
USA begins the 2014 season on Friday when they host UAB.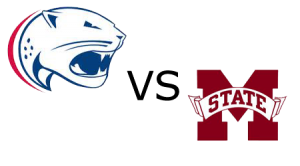 As many fans hoped and expected, the Jaguars date with Mississippi State at Ladd-Peebles Stadium is getting closer to a sell-out. The USA Athletic Ticket Office announced that the West stands at the stadium are sold out for the September 13th game.
Additionally, only about 500 tickets remain in the East stands behind the visiting team bench in sections L and M near the north end zone. Once those tickets are gone the only remaining tickets left for the game will be general admission in the end zones.
Only students with a physical ticket that they can pick up at the Mitchell Center will be allowed in for the game. Those seats will also be in the end zones.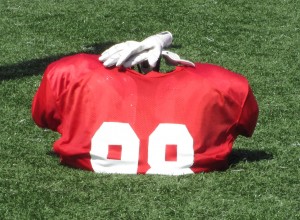 The Jags returned to the practice field on Wednesday morning in shells for a practice that lasted almost two hours. This is the third consecutive day they have practiced in shells after the teams scrimmage last Saturday.
"I thought we fought through pretty well, the guys were a little fatigued — we've talked about that the last few days — but they have a good spirit about them," head coach Joey Jones commented on the practice. "It's been fun to watch them get better, we've got several guys on this team who have improved. If we continue to do that we'll be going in the right direction."
Jones responded about if he thought the team was ready for the second scrimmage of preseason camp quickly approaching on Saturday. "I don't know if you're ever satisfied, there is always something to work on and something to get better at, but we're ready for a scrimmage," he replied. "Our guys would rather do that than practice, that's for sure, but they are doing the necessary things in practice to make them good in scrimmages and games, and that's what counts."
Speaking about the defense Jones said, "We've got some guys in there who are new who don't have as much playing experience. We feel that our starters have really got it, but now we are starting to find depth. It just takes time sometimes. You have transfers coming in who might have been here in the spring where they have had spring practice, summer workouts and two weeks of camp, those guys need more reps. They are going to continue to get better, so we just have to do a good job as coaches getting them reps and helping them improve."
Offensive player of the day went to Nathan Sassaman. Offensive coordinator Robert Matthews praised Sassaman for his willingness to learn and his hard work. "Nathan has been a guy playing a couple of different positions at wide receiver, so he is having to learn both inside and outside routes," Matthews explained. "During team periods today he came away with three really big catches where he ran good routes and got himself open. He's a kid who works every day, he's a wonderful young man and he's really gotten better. I'm proud of him."
Defensive player of the day went to Margo Reed. Defensive coordinator Travis Pearson had glowing remarks about Reed's performance. "This kids is absolutely playing lights out,' Pearson explained. "He's still learning, but every day Margo comes out here and gets my attention, there is something he does that I see and say, 'This kid made another play.' I'm excited to see if he can sustain that throughout this camp and take it into the season."
Play of the day went to Davin Hawkins who made a big leaping deflection of a pass during 7-on-7 passing drills that was almost intercepted by a diving Margo Reed. Hawkins would break up another pass later during 7-on-7′s and stopped Kendall Houston in the backfield during the final team period of the day.
In the first team session, the defense worked on blitz packages while the offense worked on picking up the blitz. Sassaman hauled in four receptions during the two team periods, three of those came when the defense was blitzing. The only turnover was an interception on the first play of the final team segment when Maleki Harris stepped in front of the pass and hauled it in.
Brandon Bridge had two touchdown passes during 7-on-7 sessions. One to Tony Ray Parnell for 40-yards, the other was to Marvin Shinn from six yards out.
The team will hit the practice field again on Thursday as they prepare for their second scrimmage of camp on Saturday. The scrimmage will be held at the Fairhope Municipal Park & Stadium beginning at 9am and will be open to the public.
South Alabama's Mechell Daniel is starting off this season as she left off last season, earning conference honors.
Daniel, a sophomore from Chelmsford, England, was named to the Sun Belt Conference preseason All-Conference team earlier this week. Last season as a true freshman, Daniel was one of the top players in the Sun Belt as she ranked third in kills (423, 3.81 per set) and points (4.33 per set). She was named the Sun Belt Freshman of the week four times, offensive player of the week, Freshman of the Year and earning first-team All-Conference honors.
Her 423 kills last season was the most ever by a freshman at USA and the sixth most in a single season. She had 24 double-figure kill matches including four 20-plus kills in a match. She recorded 14 double-doubles on the season with 13 coming in conference play and a streak of nine-consecutive.
The Jaguar volleyball team was voted to finish fifth in the conference this season with one first-place vote. Arkansas-Little Rock was selected to win the conference with four first place votes.
Team (First place votes) – Points
1.    Arkansas-Little Rock (4) – 110
2.    Texas State (3) – 99
3.    Georgia Southern (2) – 95
4.    Texas-Arlington – 83
5.    South Alabama (1) – 76
6.    Louisiana-Lafayette (1) – 63
7.    Appalachian State – 62
8.    Arkansas State – 58
9.    Troy – 41
10.    Georgia State – 28
11.    Louisiana-Monroe – 11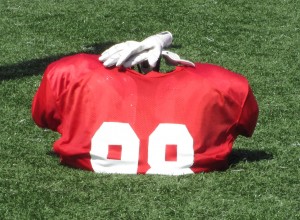 Tuesday's practice had the Jaguars in shells again for the second consecutive day for a practice that lasted over two hours.
"I thought we were a little tired," head coach Joey Jones commented after practice. "We are at that midway-point of camp. We hit the weights pretty hard yesterday on their legs and they came out a little tired, but they fought through it. We just have to keep fighting through it. I told them it's like the light at the end of the tunnel is coming, we just have to keep working."
Though they appeared tired, Jones said that the team has improved on both sides of the ball. "We have gotten sharper offensively," Jones explained. "Since the scrimmage, we have come back and had two good days of practice defensively. It's kind of hard to tell on special teams. Our kickers are doing well, but we'll find out a little more about it this weekend in the scrimmage."
One position Jones said that has stood out is running back. "We feel like we have four or five guys who can really play at running back," Jones said. "It seems like every one of those guys has stepped his game, and that has been encouraging. Defensively we didn't know how many defensive ends we might have, but I feel like we are creating some depth there."
Offensive player of the day was awarded to Xavier Johnson. Offensive coordinator Robert Matthews said that he had a good day and has progressed during preseason camp. "He made some really good cuts today, and continues to run the ball well for a young guy," Matthews observed. "We're hoping he is going to be able to contribute some for us on Saturdays."
Defensive player of the day was awarded to Roman Buchanan. Defensive coordinator Travis Pearson said that Buchanan was been a consistent player and understands the defense. He is a good communicator as well. "I think he is really starting to understand the defense," Pearson explained. "His role is very important. He has to make a lot of checks and be in a lot of different places, and he understands that."
Play of the day went to Shavarez Smith for the second day in a row after making a one-handed touchdown grab over a defender in the back corner of the end zone during 7-on-7 drills.
Other highlights included Matt Floyd and Claude Garrett hooking up for a touchdown in the back of the end zone during 7-on-7 drills. Margo Reed intercepted a Brandon Bridge pass in the back of the end zone to end a drive. Defensive end Theo Rich tackled Bridge in space to stop what looked to be a big gain during one of the team drills. DeMarion Harper recorded back-to-back sacks of Hunter Vaughn during the team period as well.
The Jags will return to practice on Wednesday.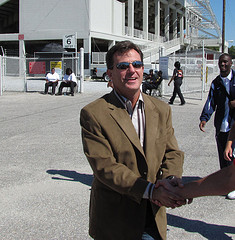 The Jaguar football team will hold their annual "Fan Day" at the Mitchell Center on Sunday, August 24 from 4-6pm. Head coach Joey Jones, his staff and student-athletes will be there for fans to take photographs and get autographs.
Additionally, the ticket sales office will be there so you can purchase tickets for the 2014 season and the bookstore will be there for you to purchase game day merchandise.
What: Fan Day
Where: Mitchell Center
When: Sunday, August 24 4-6PM