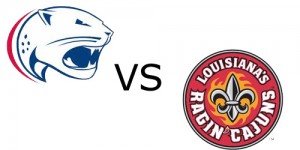 Let's break down South Alabama and Louisiana-Lafayette by the numbers so far this season.
Last season the Jags fell to ULL 52-30 in Lafayette and remain as the most points ever scored against the Jaguars in program history. Season-long starting quarterback Terrance Broadway will miss the game with a broken arm. This will put more pressure on running back Alonzo Harris who has rushed for 808 yards and 13 touchdowns this season with an average of 4.7 yards per carry this season.
Lafayette has already secured at least a share of the Sun Belt Conference title, but with a win could claim it outright. The Jaguars are looking for their sixth win of the season to become bowl eligible in their first season as a full FBS member and only the fifth season of football.
ULL has already accepted an invitation to play Tulane in the New Orleans Bowl in the Mercedes-Benz Superdome on Saturday, December 21. Arkansas State, who with a loss by ULL could claim a share of the SBC title, will play in the GoDaddy Bowl in Mobile, AL.
South Alabama, after a season of close games, where four of their losses has been by two points or less, has finally won back-to-back games with relative ease the last two weeks as their offense and defense has found their groove. The Jaguar set a program-record with nine sacks against Louisiana-Monroe two weeks ago. Also Ross Metheny recorded a game with 100+ yards passing and rushing against ULM with a highlight reel 63-yard touchdown run in the fourth quarter to cap off a great performance.
Shavarez Smith set a school record and recorded the best performance by a wide receiver by a SBC player this season with 10 receptions for 194 yards and a touchdown last week against Georgia State. Meanwhile the Jaguar defense held the GSU running attack to 24 yards on 25 carries.
Jereme Jones has caught passes in 38 consecutive games for the Jaguars.
South Alabama is 5-6 overall, 3-3 Sun Belt.
Louisiana-Lafayette is 8-3 overall 5-1 Sun Belt.
The game will be broadcast on ESPN3 as well as radio play by play by Lee Shirvanian and Rick Cleveland on WNSP.com and 105.5FM WNSP.
Offense:
Scoring Offense
ULL 37.0 points per game
USA 29.4 points per game
Read more
The University of South Alabama baseball team added 10 student-athletes for 2014-2015. USA head coach Mark Calvi announced that USA signed nine to National Letter of Intent's and added one more student-athlete.
The coaching staff worked hard to sign pitching and defensive players but, according to Calvi, they need one more hitter.
The players added were:
Jared Barnes – Catcher/Infielder from Tallahassee, FL.
Cameron Cochran – RHP from Baton Rouge, LA via Mississippi Gulf Coast CC.
Jason Cryar – Utility Player from Altamonte Springs, FL.
Mike Dolloff – RHP from Davison, MI via Northwest Florida State CC.
Justin Flores – RHP from McDonough, GA via Middle Georgia State JC.
Shane McKinley – LHP from Tylertown, MS via Southwest Mississippi CC.
Zach McMullen – LHP/Outfielder from Sarasota, FL.
Kevin Moore Jr. – RHP from Mobile, AL via Chattahoochee Valley CC.
Luke Morgan – RHP/Infielder/Outfielder from New Lenox, IL.
John Barr – RHP from Waynesboro, PA.
As the Jaguars are putting the finishing touches on their gameplan for Saturday night's season finale, they hope to send out a group of seniors on a winning note. Of the 28 seniors who will be honored before the game, 15 of them and three coaches were part of the team from the very beginning.
"I don't ever want to compare a class to another class because we have certainly had some great classes here," head coach Joey Jones said to AL.com about the departing senior class. "But it would be very, very hard to beat this class in all phases, from the standpoint of what they've done on the field, what kind of character they have, how they've led these guys and just their true love for South Alabama. They are the guys who came here and built this program and I will forever remember them."
But they will not have an easy game against Lousiana-Lafayette on Saturday night. They will be going up against big offensive line, two good running backs and a bit of an unknown at the quarterback position.
The Ragin' Cajuns quarterback was injured in their previous game against Louisiana-Monroe and will miss Saturday's game. Though he seemed to move the offense fairly well during his short time playing last Saturday, he will have a week to prepare for the game while South Alabama will be trying to prepare for a quarterback they have little film on to dissect.
But a huge motivating factor for the Jags is to send the seniors out on a winning note and to stay alive for a potential bowl big by getting bowl eligible in their final regular season game.
Arkansas State will be coming back to Mobile for their third consecutive GoDaddy Bowl as announced on Monday as they accepted an invitation to play in the game on January 5 at Ladd-Peebles Stadium.
Arkansas State finished the season with a 7-5 record and will finish no worse than second in the Sun Belt Conference. They could gain a share of SBC title with a Louisiana-Lafayette loss to South Alabama on Saturday night though.
As this is the third consecutive year ASU has been in the GoDaddy Bowl, it's also their third different head coach. Hugh Freeze guided the Red Wolves to the first appearance before leaving for his current head coaching position at Ole Miss. Gus Malzahn led the team last year to their second appearance before leaving for his current head coaching position at Auburn University. Current head coach Bryan Harsin was the co-offensive coordinator at Texas prior to accepting the head position at ASU.
ASU fell to Western Kentucky last weekend to end a four-game winning streak.
In 2011, the Red Wolves lost to Northern Illinois 38-20, in 2012 they defeated Kent State 17-13 in postseason play. Again, they will face a Mid-American Conference opponent in the bowl game, but the team has not been announced yet.
This will be Arkansas State's second trip to Mobile this year as they held on to defeat South Alabama 17-16 on November 2 at Ladd-Peebles Stadium.
While the Jaguars are uncertain that they would receive an invitation to a bowl game if they win on Saturday and achieve bowl eligibility in their first season as a full FBS member, they can only do their part and hope the chips fall where they may.
South Alabama will host conference leader Louisiana-Lafayette on Saturday in what may prove to be one of the best games of the season. South Alabama is fighting to earn bowl eligibility in their final game of the season. The Ragin' Cajuns are fighting to win the conference crown outright.
Though the possibility of a bowl invitation is remote, it does exist but requires a win. The Jags entered the season with two goals: one, get bowl eligible and two, win a conference championship. The second goal is unattainable this season, however they can defeat the conference leader to achieve the first goal.
South Alabama enters the game on a roll with convincing wins in their last two games against Louisiana-Monroe, who defeated ULL last weekend, and Georgia State.
But it may take more than just their will to accomplish the task. I wrote an article earlier this season to challenge the fanbase to come out to the game and to encourage those around you to stand up and make noise in order to make Ladd-Peebles Stadium one of the most feared stadiums in the Sun Belt.
I am challening you again.
I am challening you to not only stand up and be heard, but to also pack the stands at Ladd. The stadium currently seats 33,471 for South Alabama football. We are averaging 15,886 for home games at Ladd-Peebles Stadium, that is less than half capacity. ULL Averages 25,976 for every home game this season.
I will repost my challenge from earlier this season below, but my challenge to you is to #PackLadd. We not only need you to encourage everyone to come out to the game to salute the seniors who have built the foundation for future growth of the South Alabama program, but to encourage them as they fight to make history in getting bowl eligible in their first season as a FBS member.
Let's do this!!
Below is being reposted from my September 11 article here.
Jaguar Nation, I have a challenge for you.

I challenge you to send this to your friends and family. Tell them to read this and take it to heart. I also want you to be an example at home games. Encourage those around you to stand up, make noise and help make Ladd-Peebles Stadium one of the most feared stadiums in the Sun Belt.

If you went to the game last Saturday in New Orleans at the Superdome, you were part of something very special. You may have noticed how loud we were during the game. This was not the first time the Jaguar Nation "road crew" was impressive on the road.

Back in 2010 when South Alabama traveled to Lamar, we got loud. Really loud. Lamar fans knew where we were and that we were excited. Then the following week in Davis, California the fans were loud and well known again when the Jags came from behind to defeat UC Davis.

During the 2011 season when the Jags faced their first FBS school, in a game I refer to as USA vs NC State 1, the Jaguar fans who made that trip really let them know that we were there and proud of our team. In a stadium with a capacity of 60,000 our small group gave their rabid fans an impression. Way up in the pressbox, the broadcasters could hear Jag Nation getting rowdy and letting everyone know about it.

You can say the same thing about the road trip to Texas-San Antonio and Georgia State. The Jags were loud and proud.

The same happened in 2012 when during USA VS NC State 2, but more so on the road in Starkville against Mississippi State.

There is no doubt we are proud of our team. But we need EVERYONE at home to be as good as the 'Road Crew' when it comes to making noise. When there's a first down yell 'That's another South Alabama….FIRST DOWN'. When the defense is facing third down, make noise so they cannot communicate and to pump up our team. Make up your own thing. Chant USA or South In Your Mouth after a big play. Or the guy who yells 'hubba hubba hubba' and key defensive plays. Whatever it is, do it and be loud.

It's obvious that when Jaguar Nation is loud, the team get pumped up and excited.

Bottom line is, they need us. They need us to be loud this weekend against Western Kentucky. They will need us to be loud when Kent State plays here. When Arkansas State plays here. When Louisiana-Monroe plays here. And when Lousiana-Lafayette plays here.

Wear your RED shirts, Jersey's, hats and bring your RED rally towel and shakers. Let the Hilltoppers know we mean business and that they cannot get comfortable anytime they are in Mobile. Let them know that we are the new kids on the street and that we mean business.

That's my challenge to you, Jaguar Nation. Will you accept it? Will you send this to your friends and family? Will you be that first one to stand up, wave your rally towel, yell encouragement and get those around you to do the same?

I hope you will, because I will.

Go Jags!
Head coach Joey Jones held his Monday press conference where he spoke about the Jaguars victory over Georgia State and previewed their regular season finale against Louisiana-Lafayette on Saturday. Below are highlights from Coach Jones.
Coach Jones' opening statement. "I'm excited about this last ball game. We're playing a great team in Louisiana-Lafayette. Obviously, they are already conference champions. But it is a chance for us to go to 6-6. We are excited about that and are looking forward to playing this ball game."
Jones then spoke about momentum heading into this week's game. "There's no doubt we have played really good ball the last two weeks. I feel like we have played well all year, but for the last two weeks we have played extremely well in all three phases. We just have to keep that up. We want to finish strong. Our kids have kept fighting, and I am so proud of that they have been able to do that."
He then spoke about the balance of the offense in this game and over the last two weeks. "Our offensive line is blocking really well right now. They're doing a good job of protecting the quarterback and giving him time to throw. It starts there. And our quarterback play has been good. Ross (Metheny) has done a good job. He is leading the league in total yards, and is just playing extremely well. Shavarez Smith has come up and made some great plays. We have a lot of people who can step up and make good plays."
Jones then began talking about Louisiana-Lafayette by beginning with their offense. "They are really big upfront. They are the biggest offensive line we have faced other than Tennessee. They probably have the best two backs, as far as a tandem goes, in the conference. They have a great scheme in the running and passing game. One thing I admire about what they do, is they continue to do the same things over and over all year long and just get good at it. They do a great job as far as run-pass ratio is concerned and keep the defense on its toes."
He talked about last week's game between ULL and Lousiana-Monroe which the Warhawks won 31-28. "Louisiana-Monroe won the game last weekend. They (ULL) lost their quarterback and that hurt them. But I think everyone in the Sun Belt Conference is fairly close. I think Lafayette is a step ahead talent-wise the way they are playing. So we're going to have to play at a higher level to beat them. I think our players understand that, but we're playing pretty well right now and that's all we can control."
Jones then talked about how the injury to ULL's starting quarterback affects it's offense. "In watching the little bit of time that the backup quarterback has played, he is athletic and can throw. He is tall and very capable, I just don't know that much about him because he hasn't been on film quite as long. But I don't know if it will change anything we're doing. They are going to run the same offense, I think, regardless of the quarterback that is in the game."
He spoke about Senior Night and what these Seniors have meant to the program. "This is the largest senior class we have had and a lot of them were here when we started the program. It's going to be a little extra-special with those guys. I'll miss them. I love all of those guys. They have done a lot to start our program. They care about our program, they understand what being a Jaguar is all about and they have done things the right way. They have great academics and great character. The foundation that they've built is going to last for a long time because of the way they have acted and how much they care about South Alabama."
Finally, he spoke about what finishing with a win to get to 6-6 on the season would represent. "It is one of our goals. One of our goals for a brand new Division I program is to become bowl eligible. That would mean a lot. We wanted to win a conference championship as well. Those were our two goals. If we win this ballgame and go to 6-6, I think we would have had a successful year in a lot of ways. Could it have been a lot better? Heck yes. But there's no doubt that doing that in our first year in Division I would be a great accomplishment."
USA and ULL kickoff at 7pm at Ladd-Peebles Stadium on Saturday.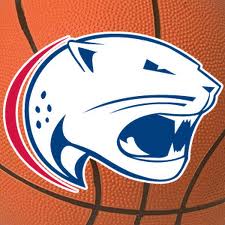 The South Alabama men's basketball team improved their overall record to 5-3 with a win over in-town NAIA opponent Spring Hill College at the Mitchell Center on Monday night in a 91-41 victory. The Badgers fell to 0-6 on the season.
Augustine Rubit who was recognized in a pregame ceremony for setting the school's all-time rebounding record in a recent game, finished the game with 18 points and nine rebounds in 19 minutes on the floor. His rebounding total moved him into second place all-time in career rebounds in the Sun Belt.
Ken Williams added 13 points and three rebounds while Dionte Ferguson scored nine points and had five rebounds. Actually all but one Jaguar player scored at least two points in the victory.
The Jags will travel to Houston, Texas to face Rice on Saturday, December 7 for a 5pm tipoff.
South Alabama's Shavarez Smith was named the Sun Belt Conference's Offensive Player of the Week by the league office on Monday.
Smith, a 6'1″ 200-pound junior receiver from McDonough, Georiga, caught 10 passes for 194 yards and a touchdown. He is the second Jaguar to earn the honor this season as Ross Metheny earned the award after the Jaguars win over Tulane on September 7.
Smith's performance not only set a school record, but was the most receiving yards by any Sun Belt player this season.
As he enters the final game of the regular season, Smith has set school records for a single season with 47 receptions for 900 yards. But he not only stands third in the conference in yards per game, but he is also 12th in the nation with an average of 19.1 yards per reception.
South Alabama will host conference leader Louisiana-Lafayette on Saturday at Ladd-Peebles Stadium. It will also be Senior Day with the ceremony starting at 6:30pm prior to the 7pm kickoff. The Jaguars need to win this final game of the season to get to an even record for the season and get bowl eligible for the first time in program history.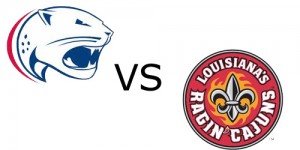 Prior to the beginning of the season head coach Joey Jones, his staff and the players set two goals for the season. First is to get bowl eligible and the other was to win the Sun Belt conference title. Though they have been been eliminated from the second, they are still in the running for the first. Though, in order to do so they will have to defeat the team in the drivers seat for the conference title.
Louisana-Lafayette ranks at or near the top of many Sun Belt Conference statistical categories. But South Alabama also ranks near the top in some categories themselves. But sometimes statistics can be thrown out the door when emotion and Will overpower the opposition and tendencies.
These Jaguars have shown that they can play above their expectations. Just look at what they did a few years ago when they faced their first FBS team and held strong through the first three quarters in Raleigh. Though they only won one game against FBS school last season, they were not expected to win any of them and yet were still in the game all the way to the end on several occasions.
This season the Jags began as underdogs against FBS opponents but they made a statement when they defeated Tulane in the Superdome. Their statement went to a broader audience when they held strong against Tennessee in Knoxville and lost by a mere seven points but had a chance to tie or attempt to take the lead with under two minutes left in the game.
Now the Jags stand on the cusp of .500 season overall, a winning record in thier conference schedule and bowl eligibility. The only thing in their way is the Louisiana-Lafayette Ragin' Cajuns.
This team has been built on the support of students and alumni and arguably this is one of the most important moments where all of the fans can make a huge difference. What is needed on Saturday is a large, loud crowd to let the Jaguar student-athletes and staff know just how much support they have. But equally important, to let ULL know how much we love our Jaguars. But if we are loud enough to disrupt their communication, well that's an added bonus too.
While a win does not guarantee USA a bowl invitation, it will make history for the school and possibly in college football as the program to go from nothing to bowl eligibility in the shortest time span in modern college football history.
Tell your friends, your family and anyone willing to listen that they should go to Ladd-Peebles Stadium on Saturday night and cheer on the Jaguars.
If you're a student or know a student, then they definitely do not have an excuse as their tickets are free. So challenge them to come out to Stadium and pack the student section for the game.
Go Jags! #BeatULL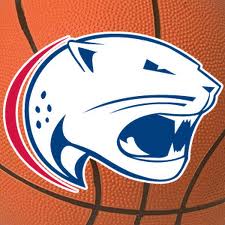 The Jaguar men's basketball team lost to former Sun Belt Conference rival Middle Tennessee State 65-55 on Saturday. The Blue Raiders held the Jags without a field goal over the final 9:08 and finished on a 16-2 run to down the Jags.
The Jags squandered a first-half lead again this season  as they held an eight point advantage at halftime but only shot 12.5% in the second half, one field goal in the final 14:20 and none in the final 9:08 of the game.
This puts the Jags at 4-3 on the season while the Blue Raiders improve to 6-1 on the season.
Middle Tennessee started a 13-0 run at the 5:32 mark with the final 10 points coming from the free throw line. The Jags went 0-for-13 from outside the arc in the second half after shooting 6-of-8 from there in the first half.
Augustine Rubit led all scorers with 15 points but fell short of a double-double with nine rebounds. Freshman Aakim Saintil added 14 points off the bench with a career high five steals. Junior Mychal Ammons added a game-high 10 rebounds.
South Alabama took control of the game in the first half when they had a 14-3 run over a six minute stretch to break a tie and give themselves an 11 points lead.
"I thought we came out and played really hard and focused early on," said head coach Matthew Graves after the game. "Anytime you play on the road you want to get off to a good start and I thought we did that. We controlled the tempo, we were attacking and making plays that you need in order to get that lead."
"In the second half we got lackluster and got on our heels," Graves continued. "Like I told the guys in the locker room, I think it's a three-part problem: one, I have to do a better job of putting the players in a place to be successful. Two, I think our guards need to be more in attack mode, not to score the ball but to get others involved, and three, our bigs were stagnant. We stood around and they weren't as active in the second half as they were in the first half, so we have a lot of things we need to work on."
"To a certain extent I think they turned the pressure up a little bit but I think it's really more our fault," Graves said. "We didn't attack like we did in the first half and we didn't continue to go at the rim. We settled for too many contested 3-point shots, which is what we want to give up on our end, but they made the adjustments and did what they needed to do. It's really disappointing for us."
"What they did was make a conscious effort to drive the basketball." Graves said. "They have a veteran team over there and they took advantage of their opportunities. The bottom line is, we need to be tougher. We have to go after every loose ball. I thought we had a couple of guys do some good things and compete but we've got to have the whole team do that for an extended period of time."
The Jags will return to action on Monday night when they host Spring Hill at the Mitchell Center. Tip off is set for 7:05pm.